Por complicaciones asociadas a la marcha estudiantil convocada para este jueves 28 a las 20:00 hrs, se ha decidido reprogramar la conferencia sobre Patrimonio Moderno. Se avisará oportunamente la fecha.
Rogamos disculpar cualquier inconveniente que este cambio pueda generar.
Docomomo Chile apoya la campaña de la comunidad para salvar de la inminente demolición la casa de Brown Norte 382, diseñada en 1937 por el destacado arquitecto Carlos Bresciani, Premio Nacional de Arquitectura 1970 y miembro de la oficina Bresciani, Valdés, Castillo, Huidobro, para la utilización del terreno como estacionamiento.
Puede ver la entrevista que sobre este caso ha hecho el equipo de Plataforma Urbana a nuestro presidente, Horacio Torrent, aquí.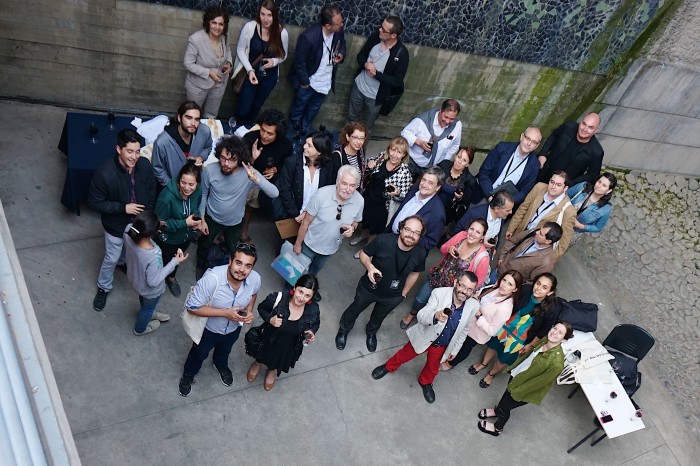 El viernes 28 de noviembre se clausuró el V° Seminario Nacional de Docomomo Chile, que se llevó a cabo en el auditorio de la Escuela de Arquitectura de la Pontificia Universidad de Chile.
El seminario contó con la participación de diversos invitados internacionales, entre ellos Ana Tostoes, presidenta de Docomomo International y Víctor Pérez Escolano, de Docomomo Ibérico.
Agradecemos a todos los ponentes, asistentes, estudiantes e invitados por haber colaborado en el éxito de este evento.
Invitamos a todos los miembros activos de nuestra Corporación a proponer sede para el próximo seminario.

Vº SEMINARIO DOCOMOMO CHILE
El Desafío del Tiempo
Proyecto y persistencia del Patrimonio Moderno
programa*
Miércoles 26 de noviembre
09:00 – Registro
11:00 – Ceremonia de Apertura
11:30 – Presentación Horacio Torrent – Presidente de Docomomo Chile
12:30 – Conferencia | Carlos Eduardo Dias Comas
almuerzo libre
15:00 – Sesión 1: Documentación, Valoración y Perspectivas
17:00 – Café
17:30 – Conferencia Claudia Costa Cabral
18:30 – Presentación proyecto Sala Fanjzilber, CEPAL
Jueves 27 de noviembre
09:00 – Sesión 2: Persistencias del Espacio Educativo
10:15 – Café
10:45 – Sesión 3: Conjuntos Emblemáticos
12:00 – Sesión 4: Casos difíciles, Brutalismo y Ladrillos del Norte y del Sur
almuerzo libre
15:00 – Sesión 5: Obras Emblemáticas
17:o0 – Café
17:30 – Conferencia Marta Silveira Peixoto
18:30 – Presentación del libro El Espejo y el Manto, de Fernando Pérez Oyarzun
Viernes 28 de noviembre
09:00 – Sesión 6: Escalas Urbanas como Patrimonio
10:30 – Café
11:00 – Sesión 7: Intervenciones: Patrimonio en Perspectiva
12:00 – Conferencia Víctor Pérez Escolano
almuerzo libre
15:00 – Sesión 8: Ciudades Intermedias, Nuevos Patrimonios
16:15 – Café
16.45 – Sesión 9: Patrimonios, Interpretaciones, Valoraciones
18:30 – Conferencia Ana Tostoes – Presidenta de Docomomo International
Sábado 29 de noviembre
DocoTours
* programa tentativo, sujeto a modificación

En el marco de las celebraciones por los 10 años conjuntos de Docomomo Chile y Docomomo México, los invitamos a la conferencia que dictará Iván San Martín (UNAM) este jueves 14 de agosto.

El desafío del tiempo: Proyecto y persistencia del patrimonio moderno
Santiago, 26, 27 y 28 de Noviembre 2014
Convocatoria
El V Seminario Docomomo Chile se realizará en la ciudad de Santiago y estará enfocado al análisis y debates sobre las diversas experiencias urbano-arquitectónicas que se manifestaron en el país y la región durante el siglo XX y sus alternativas de preservación.
Bajo el tema centralEl desafío del tiempo: Proyecto y persistencia del patrimonio modernoesta quinta versión del seminario Docomomo tiene como propósito continuar el análisis sobre arquitectura y urbanismo moderno iniciado en los anteriores seminarios, realizados en las ciudades de Santiago (2005), Antofagasta (2007), Valparaíso (2009) y Concepción (2012).
A lo largo de 10 años de actividad, el grupo de trabajo de Docomomo Chile se ha propuesto examinar dos aspectos de particular relevancia en torno al estado y a las perspectivas futuras del patrimonio arquitectónico y urbanístico de Chile.
Con el objetivo de estructurar el debate, se han definido los siguientes ejes temáticos:
1. Obras emblemáticas, conservación, persistencia, caminos posibles;
2. Intervenciones contemporáneas en obras modernas de valor patrimonial;
3. Situación del patrimonio moderno, documentación, valoración y perspectivas.
El texto completo de la convocatoria se puede descargar AQUÍ.
Consultas al email seminario2014@docomomo.cl
En el marco de las actividades de celebración de los 10 años de Docomomo Chile, los invitamos a dos conferencias que dará Louise Noelle, de Docomomo México, académica del Instituto de Investigaciones Estéticas de la Universidad Nacional Autónoma de México.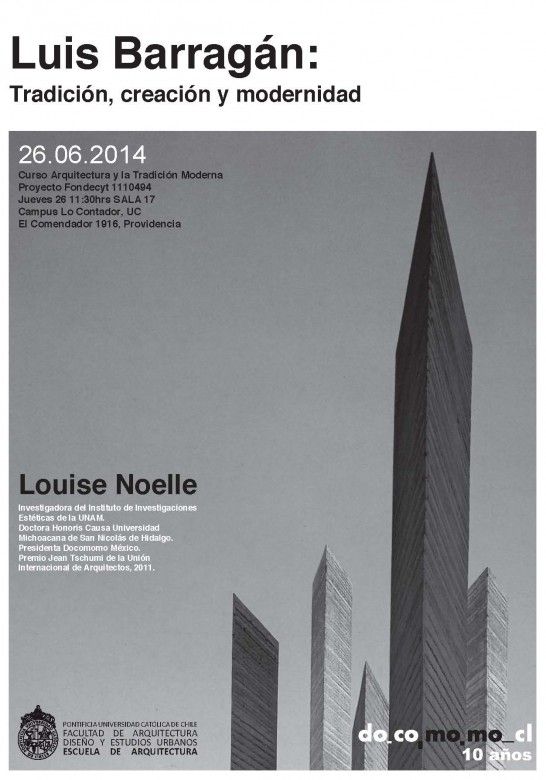 Este año 2014 el capítulo nacional de Docomomo Chile cumple 10 años desde su incorporación a la organización internacional en el marco del Council Meeting realizado en la ciudad de Nueva York en 2004.
Para celebrar esta década dedicada a la documentación y conservación de nuestro patrimonio moderno, este año tendremos una serie de actividades relacionadas, la central de las cuales será el V Seminario Nacional Docomomo Chile, que se realizará en el mes de noviembre en la ciudad de Santiago.
Para fomentar la difusión de las actividades de este año, se encomienda a los miembros activos a asociar la imagen de Docomomo Chile | 10 Años a sus proyectos y conferencias.
Igualmente, se les invita a estar atentos a las informaciones que se irán subiendo a este medio acerca de la organización del Seminario 2014.
Lisbon, 1 April 2014
Dear Docomomo chapters,
Docomomo International is pleased to inform that the headquarters have been
transferred from Barcelona (Mies van der Rohe Foundation) to Lisbon
(Instituto Superior Técnico – Lisbon University).
At the last Executive Committee meeting that took place in Lisbon on 12th
July 2013, followed by the Advisory Board meeting also held in Lisbon on 4th
September 2013, the financial situation of Docomomo International and its
headquarters at the Mies van der Rohe foundation in Barcelona was discussed.
As many of you may know, since the Mies van der Rohe Foundation changed the
direction at the end of 2012, DOCOMOMO has gone through a difficult
situation due to the lack of sponsorship. In fact, the new foundation
direction set priorities that did not include the funding of Docomomo
International. Not even the occupation abidance of Docomomo's office space
could be assured.
Last September, the Advisory Board (see the attached document) welcomed and
supported the proposal of moving the headquarters from Barcelona to Lisbon
at the Instituto Superior Técnico – Lisbon University, profiting the Lisbon
City Council Mayor offer to fund Docomomo International for 2014-2016 in
order to fulfill the mandate accorded until 2016. The protocol between
Docomomo International and the Lisbon City Council was approved last
February. The transference is now under progress and Docomomo International
will start working from Lisbon from April 2014.
Docomomo International also informs that the Secretary General announced in
July 2013 his intention to drop his position although he will assist the
Council Meeting at the next Docomomo International Conference in Korea. The
architect Zara Ferreira, who's being since then gradually assuming the
secretary's work and who attended the last AB meeting, will ensure the other
secretariat functions as Director nominated by the Chair and by the General
Secretary for that purpose.
Ana Tostões
Ivan Blasi
Chair
General Secretary
Docomomo International