En el marco de las actividades de celebración de los 10 años de Docomomo Chile, los invitamos a dos conferencias que dará Louise Noelle, de Docomomo México, académica del Instituto de Investigaciones Estéticas de la Universidad Nacional Autónoma de México.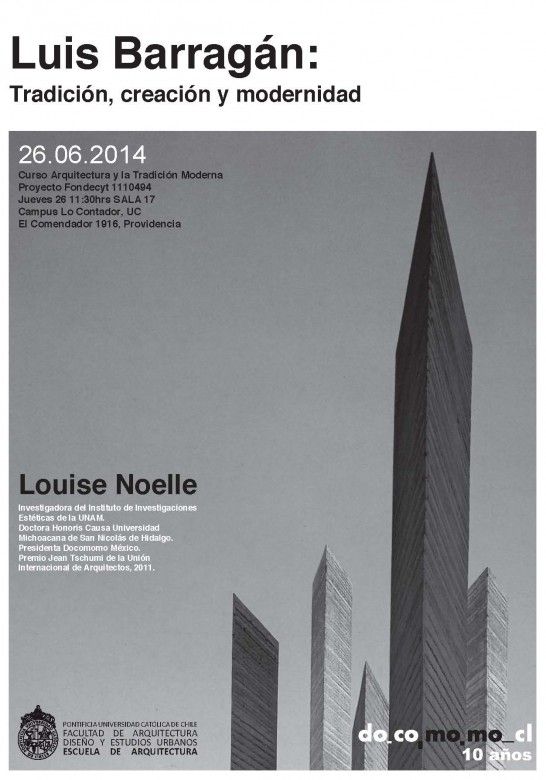 Este año 2014 el capítulo nacional de Docomomo Chile cumple 10 años desde su incorporación a la organización internacional en el marco del Council Meeting realizado en la ciudad de Nueva York en 2004.
Para celebrar esta década dedicada a la documentación y conservación de nuestro patrimonio moderno, este año tendremos una serie de actividades relacionadas, la central de las cuales será el V Seminario Nacional Docomomo Chile, que se realizará en el mes de noviembre en la ciudad de Santiago.
Para fomentar la difusión de las actividades de este año, se encomienda a los miembros activos a asociar la imagen de Docomomo Chile | 10 Años a sus proyectos y conferencias.
Igualmente, se les invita a estar atentos a las informaciones que se irán subiendo a este medio acerca de la organización del Seminario 2014.
Lisbon, 1 April 2014
Dear Docomomo chapters,
Docomomo International is pleased to inform that the headquarters have been
transferred from Barcelona (Mies van der Rohe Foundation) to Lisbon
(Instituto Superior Técnico – Lisbon University).
At the last Executive Committee meeting that took place in Lisbon on 12th
July 2013, followed by the Advisory Board meeting also held in Lisbon on 4th
September 2013, the financial situation of Docomomo International and its
headquarters at the Mies van der Rohe foundation in Barcelona was discussed.
As many of you may know, since the Mies van der Rohe Foundation changed the
direction at the end of 2012, DOCOMOMO has gone through a difficult
situation due to the lack of sponsorship. In fact, the new foundation
direction set priorities that did not include the funding of Docomomo
International. Not even the occupation abidance of Docomomo's office space
could be assured.
Last September, the Advisory Board (see the attached document) welcomed and
supported the proposal of moving the headquarters from Barcelona to Lisbon
at the Instituto Superior Técnico – Lisbon University, profiting the Lisbon
City Council Mayor offer to fund Docomomo International for 2014-2016 in
order to fulfill the mandate accorded until 2016. The protocol between
Docomomo International and the Lisbon City Council was approved last
February. The transference is now under progress and Docomomo International
will start working from Lisbon from April 2014.
Docomomo International also informs that the Secretary General announced in
July 2013 his intention to drop his position although he will assist the
Council Meeting at the next Docomomo International Conference in Korea. The
architect Zara Ferreira, who's being since then gradually assuming the
secretary's work and who attended the last AB meeting, will ensure the other
secretariat functions as Director nominated by the Chair and by the General
Secretary for that purpose.
Ana Tostões
Ivan Blasi
Chair
General Secretary
Docomomo International
Hemos recibido el Call for papers para la próxima Conferencia Internacional de Docomomo, a realizarse en Seúl, Corea, entre el 24 y el 27 de septiembre de 2014.
A continuación el texto (en inglés) de la convocatoria.
Call for papers
The Modern Movement challenged a millennium of classical values through a collective global revolution in technological, social, political and aesthetic spatial values. The magnitude and complexity of this confrontation between epochs multiplied when Modernity's western values expanded into the Asian sphere.
The diasporas of Modernity and the resultant local interpretations of the movement are well documented and known. Even the moniker "International Style" presumed a singularity on a global scale, only to be tweaked and usurped by regional modern architects who would integrate modern values with regional sensibilities. But it is important to remember these exchanges and re- calibrations took place on the shared stage of a singular western culture.
The 2014 International Conference re-measures this expansion of the Modern ethos within a wholly different context of Asia.  Instigated by a geo-political expansionist policy, these colonial expansions produced violent confrontations and challenged the very cultural and heritage foundation of Asia. As a result, the relevancy of the Modern Movement—not as a style but as a way of thinking, a harbinger of contemporary values—was tested and fortified.  Predictably, Modernity in Asia grew and matured through this process of conflict and expansion and intrinsically took on very distinct identities in different regions. To comprehend the variety of Asian Modernism, it is vital to map a comparative analysis of each country's Modern roots and major achievements.
The theme of Expansion and Conflict fundamentally interrogates the values and relevancy of the Modern Movement through the extreme cultural lens of Asia.  By this interrogation, we hope to secure its aspirational role in any culture and society. We would declare that conflict is not necessarily a pejorative but maybe a challenge for the future. It signifies a vigorous recognition of each culture's robust and intrinsic values—the existing culture and modernism's raison d'être.  As Modern Movement is asked to earn a space of its own by clashing with the existing intrinsic order, it does so by forming a new value system. Through this process, it grows to become a regional phenomenon and eventually gains the momentum necessary to develop and expand on its own.
The 2014 Call for Paper is ultimately, about the resilience of Modern Movement.
[Schedule]
• Deadline for Abstract Submission: Nov. 28, 2013 
• Presentation Paper Selection: Feb. 28, 2014 
• Deadline for Full Paper Submission: Jun. 26, 2014 
2014 Docomomo Seoul International Conference Organizing Committee
• Address: Unineo, 3rd Floor, Sunin Building, Yeoksam-dong, Gangnam-gu, Seoul, Korea, 135-080
• Telephone: 82-70-7425-5237
• Fax: 82-2-3461-1340
• E-mail: contact@docomomo-seoul2014.org
1. Education and Theory
The difference of philosophies between the east and the west bears fruit to an evolving discussion regarding theories of space, tectonics and meaning. The linearity of approaching the modern movement must evolve to a lateral system that permits multiple relationships with cultural issues in conflict with the existing pattern. The practical integration of this expansive architectural education should be discussed as a pedagogical structure for Asia and worldwide.
2. Urbanism and Landscape
Urban planning and landscape have experienced a turbulent yet dynamic evolution in modern Asia and elsewhere. While Europe can reclaim the palimpsest of an existing city pattern, Asia, Africa and South America are literally defined by either colonial foreign entities or the new mode of western urbanism. What emerged from this binary system of colonial and western urbanism is an unconventional relationship between program, infrastructure and landscape which produced dynamic new urban typologies.
3. Conservation and Re-Use
The rapidly changing city is the stage for repeated collisions between social and economic desires and historically-valued ideologies. It is within this context of conflict that the heritage of the modern movement must now expand. However, changing social and economic demands lead to frequent instances when the value of preserving and re-using modern building is not recognised. Conservation and re-use policy, legal action, public education, and awareness programs to sustain the exchange of opinion are therefore necessary.
4. Technology
The selection of buildings materials is traditionally depending on technology. However cultural implications and meaning are associated with the use of local and global, natural or industrial materials. Therefore, it is critical to understand expansion and conflict in terms of building construction. It is also critical to face modern technology from the contemporary point of view of rehabilitation and sustainability.
5. Asian Modernity
Is Modern Movement a western concept? Can one be Modern and non western? The definition of Asian Modern Movement begins with locating and defining the core values and ethos of modernity. These values aspire to be universal beyond local culture and geography. Therefore, one would contend if modernity has stopped being western-centric, and has become a universal set of values that can be appropriated by any region. Simultaneously, these values are mobilized and activated through specific vehicles of local history, culture and resources. Asian modernity would represent the most extreme and challenging of these cultural vehicles.
Ha muerto ayer Alberto Cruz Covarrubias, fundador y motor de la Escuela de Arquitectura de la Universidad Católica de Valparaíso y de la Cooperativa Amereida. Figura ineludible del panorama arquitectónico chileno de la segunda mitad del siglo XX, su legado dejó una de las iniciativas pedagógicas y disciplinares más interesantes de este periodo en América Latina.
Su obra, su ascendiente inspirador en múltiples obras señeras de la arquitectura moderna chilena y sus escritos seguirán inspirando y guiando a muchos arquitectos e investigadores a lo largo de los años, tal como ha sido desde que se hiciera cargo de la renovación de la escuela de Valparaíso en 1952.
En un año en que hemos visto la partida de Fernando Castillo Velasco y Christian de Groote, Docomomo Chile presenta su homenaje y envía sus condolencias a su familia y a quienes se sienten sus seguidores en la arquitectura.
Ha muerto este lunes el arquitecto chileno Christian de Groote. Importante figura de la última generación de los arquitectos modernos, fue un estrecho colaborador de Emilio Duhart en sus más importantes obras, y un prolífico arquitecto en su ejercicio independiente, con obras paradigmáticas de la arquitectura chilena de la segunda mitad del siglo XX.
Docomomo Chile rinde un último homenaje a este destacado arquitecto, e invita a todos a apreciar su legado en la obra arquitectónica que lo sobrevive.
Docomomo Chile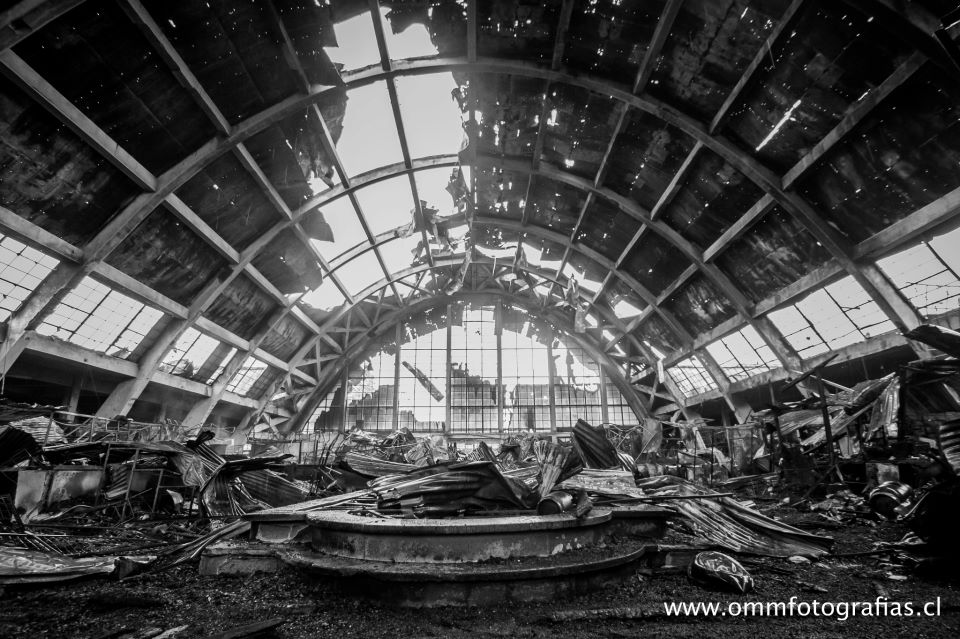 Los invitamos a visitar la página de Historia Arquitectónica de Concepción en el siguiente link:
http://concehistorico.blogspot.com/2013/05/sobre-el-mercado-central.html
Trayectorias de la Ciudad Moderna
Información de inscripciones al seminario.
(información actualizada al 01/11/2012)
SE HAN MODIFICADO LAS FECHAS
Montos de inscripción
Ponentes (en cualquier categoría)
normal: $50.000
miembros de Docomomo: $35.000
estudiantes: $25.000
Público general
normal antes del 11/11/2012: $35.000; después del 11/11/2012: $45.000
miembros de Docomomo antes del 11/11/2012: $20.000; después del 11/11/2012: $30.000
estudiantes antes del 11/11/2012: $15.000; después del 11/11/2012: $20.000
La inscripción se puede hacer con transferencia bancaria a nombre de Corporación Docomomo Chile.
Los datos de la cuenta estarán disponibles después del lunes 5 de noviembre.
Consultas: seminario2012@docomomo.cl
PROGRAMA
MIERCOLES 21 DE NOVIEMBRE 2012____________________________________________________
9:00_19:30 registro e inscripción Lugar: A Definir Maestro de Ceremonias: Gonzalo Cerda
09:30_ 10:30 Inauguración Oficial
09.30 Presentación Maximiano Atria / Secretario General Docomomo 5 min
Señor Sergio Lavanchy Merino Rector Universidad de Concepción o representante 10 min
Señor Héctor Gaete Feres Rector Universidad del Bio Bio o representante 10 min
Señora Florencia Jofré Manieu Vicerrectora de Pregrado Universidad del Desarrollo 10 min
Señor Javier Vera Jünemann Vicerrector Universidad San Sebastián o representante 10 min
Señor Pontificia Universidad Católica 10 min
10:30_ 11: 15 Conferencia apertura Horacio Torrent Presidente Docomomo Chile.
11:30_12:30 Conferencia Magistral Claudia Costa Cabral Presidente Docomomo Brasil
12:30_14:00Coctel Inauguración Lugar del evento a confirmar
15:00_16:30 SESION 01 Circunstancias Históricas y Culturales de la Ciudad durante el Siglo XX.
Lugar Auditorio EMPREUDEC, Campus Universidad de Concepción Maestro de Ceremonias: Maria Dolores Muñoz
15:00 _ 16:30 1° Sesión de Ponencias
16.30 – 17.00 Café
17:00_18:30 2 ° Sesión de Ponencias
18:30_19:30 1° Panel de Comunicaciones
19:30 Conferencia Invitado Internacional Dra Ruth Verde Zein
JUEVES 22 DE NOVIEMBRE 2012__________________________________________________________
9:00_19:30 registro e inscripción
09.30_ 13.30 SESION 02 La planificación de las ciudades, cambios y desarrollos; el rol de las instituciones en la construcción de la ciudad moderna.
Lugar Auditorio EMPREUDEC, Campus Universidad de Concepción Maestro de Ceremonias: Pablo Fuentes
9.00_ 10.30 3° Sesión de Ponencias
10:30_11:00 Café
11.00_12.304 ° Sesión de Ponencias
12:30_13:302° Panel de Comunicaciones
13:30 Almuerzo
15:30_19:00 SESION 03 Conjuntos Urbanos emblemáticos y arquitecturas modernas relevantes
Lugar Auditorio EMPREUDEC, Campus Universidad de Concepción Maestro de Ceremonias: Soledad Garay
15:00 _ 16:30 5° Sesión de Ponencias
16.30 – 17.00 Café
17:00_18:30 6° Sesión de Ponencias
18:30_19:30 3° Panel de Comunicaciones
19:30 Conferencia Invitado Internacional Carlos Eduardo Dias Comas Auditorio AU- 201, Ainavillo 456, Universidad del Desarrollo
Viernes 23 DE NOVIEMBRE 2012_____________________________________________________________
9:00_19:30 registro e inscripción
9:00_10:30 SESION 04 Los desastres naturales del Siglo XX y la reconstrucción urbana; el patrimonio moderno en el contexto del terremoto del 2010.
Lugar Auditorio EMPREUDEC, Campus Universidad de Concepción Maestro de Ceremonias: Leonel Pérez
9.00_ 10.30 7° Sesión de Ponencias
10:30_11:00 Café
11.00_12.308 ° Sesión de Ponencias
12:30_13:304° Panel de Comunicaciones
13:30 Almuerzo
15:30_17:00 SESION 05 Situación actual del Patrimonio Moderno; valoración y perspectivas
Lugar Auditorio EMPREUDEC, Campus Universidad de Concepción Maestro de Ceremonias: Veronica Esparza
15:00 _ 16:30 9° Sesión de Ponencias
16.30 – 17.00 Café
17:00_18:30 10° Sesión de Ponencias
18:30_19:30 5° Panel de Comunicaciones
19:30 Ceremonia Reconocimiento al Dr. Arqto. Osvaldo Cáceres González Por su quehacer profesional y destacado trabajo en la investigación, enseñanza y difusión de la Arquitectura Moderna en el sur del país. Auditorio Principal, Universidad San Sebastián, Campus Tres Pascualas
20:30 Coctel de Clausura
Sábado 24 DE NOVIEMBRE 2012__________________________________________________________
DOCOTOUR_CHILLAN
10:00_18:00 HRS
Responsable: Gonzalo Cerda.
Punto de encuentro : Estacionamiento Universidad de Concepción, Víctor Lamas esq. Edmundo Larenas
1o:00_11:00 : Viaje a Chillán
11:00 hrs : Inicio del recorrido en la Catedral de Chillán,
Maria Eugenia Rojas, arquitecto del Arzobispado de Chillán, responsable de la Restauración post terremoto de la Iglesia hará breve exposición sobre las obras realizadas.
12.00 Coopelec
13.00 Mercado
14.30 hrs Cuartel de Bomberos
15.30 hrs Escuela México
DOCOTOUR CAMPUS UNIVERSIDAD DE CONCEPCIÓN Responsable Pablo Fuentes, Leonel Pérez
Se realizará durante los días del Seminario, estará a cargo de alumnos de la escuela de Arquitectura UdeC que fueron capacitados para el Día del Patrimonio.
Trayectorias de la Ciudad Moderna
Evaluación del Comité Científico
Ha terminado el proceso de evaluación de resumenes recibidos por parte del comité científico.
Los seleccionados recibirán una carta donde se les informará acerca del formato y la categoría en la que fueron seleccionados. Asimismo, a los no seleccionados se les informará personalizadamente acerca de su situación.
El programa del seminario con los nombres de los ponentes y la estructura de sesiones será publicad en este mismo sitio cuando esté disponible.
Trayectorias de la Ciudad Moderna
Comité Científico
Se recibieron alrededor de 70 trabajos que han sido puestos a disposición del comité científico para su evaluación.
Los resultados de dicha evaluación estarán disponibles el 9 de septiembre y a partir de esa fecha se irá informando a los proponentes.
El comité científico está formado por las siguientes personas:
Ana Tostoes – Presidente de Docomomo International
Maristella Casciato – ex Presidente de Docomomo International – CCA
Claudia Costa Cabral – Presidente Docomomo Brasil
Carlos Eduardo Dias Comas – Universidade Federal do Rio Grande do Sul, Porto Alegre
Louise Noelle – Presidente de Docomomo México
Raúl Monterroso – Presidente de Docomomo Guatemala
Gustavo Luis Moré – Presidente de Docomomo República Dominicana
Fernando Pérez Oyarzun – Jefe del programa de Doctorado, PUC
Marcela Hurtado – Universidad Técnica Federico Santa María
Horacio Torrent – Preidente de Docomomo Chile
José Rosas – Pontificia Universidad Ctólica de Chile
Humberto Eliash – Vicedecano, FAU Universidad de Chile
Maximiano Atria – Secretario General de Docomomo Chile, Universidad de Chile
Claudio Galeno – Universidad Católica del Norte
Macarena Cortés – Pontificia Universidad Ctólica de Chile
Pedro Alonso – Jefe del programa MARQ, Pontificia Universidad Ctólica de Chile
Hugo Mondragón – Pontificia Universidad Ctólica de Chile
María Dolores Muñoz – Universidad de Concepción
Leonel Pérez – Universidad de Concepción
Gonzalo Cerda – Universidad del Bío Bío
Pablo Fuentes – Universidad del Bío Bío
David Caralt – Universidad del Desarrollo, Concepción
Stéphane Franck – Universidad San Sebastián, Concepción
coordinador: Maximiano Atria