La Unesco ha incluido en la lista de Patrimonio Mundial 17 obras de Le Corbusier, presentadas en conjunto por varios países, en la conclusión de un esfuerzo que ya llevaba años y que había sido ampliamente discutido y apoyado por Docomomo International.
Ver mas información AQUI.
Cuarta sesión del Seminario de historia de la arquitectura, la ciudad y el territorio organizado por el programa de Magíster en Arquitectura de la Universidad de Chile. Conferencia
del profesor Maximiano Atria (Universidad de Chile) quien presentará su trabajo titulado "Sin edificios no hay afuera. Aproximaciones al paisaje en la Estación de Biología Marina de Montemar". Esta actividad se realizará miércoles 1º de junio a las 16h30 en la sala C-16 de la Facultad de Arquitectura y Urbanismo de la Universidad de Chile en Av. Portugal 84, Santiago.
Maximiano Atria es profesor asistente en el departamento de Arquitectura de la Universidad de Chile y se desempeña como secretario general de Docomomo-Chile (Documentación y conservación de edificios, sitios y barrios del movimiento moderno). Entre otros trabajos ha publicado Arquitectura escolar pública como patrimonio moderno en Chile (2015) y Blanca Montaña. Arquitectura reciente en Chile (2010), ambos en co-autoría y ha defendido la tesis "La permanencia del paisaje como fundamento en la Estación de Biología Marina de Montemar", tema que será abordado en su charla.
Está abierto el periodo de registro para asistir a la 14a Conferencia Internacional de Docomomo, a realizarse en Lisboa, Portugal, entre el 6 y el 9 de septiembre de 2016. Información extra se puede descargar aquí.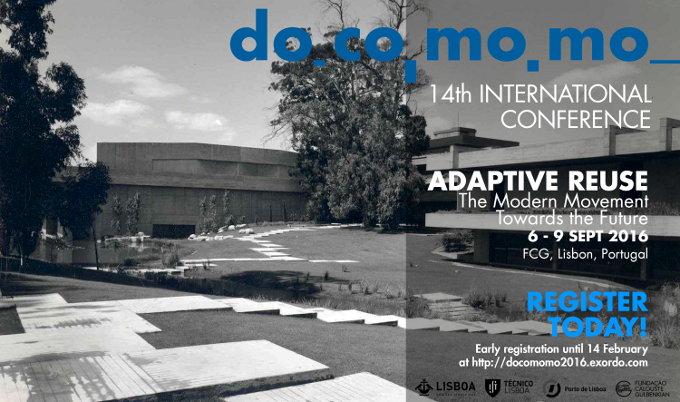 CALL FOR PAPERS
docomomo International invites researchers and practitioners involved in the process of preservation, conservation, renovation or transformation of buildings, sites and neighbourhoods of the Modern Movement, to investigate on the theme: Adaptive Re-use, The Modern Movement Towards the Future (read more on About).
docomomo International is now accepting abstracts for the 14th International docomomo Conference that will take place in Calouste Gulbenkian Foundation, Lisbon, Portugal, September 6–9, 2016. Please submit abstracts no later than October 18, 2015 (12 pm GMT), for one of the 29 thematic sessions listed below (download it here).
 Sessions will consist of four papers, followed by 20 minutes for discussion. Each paper should be in English and take no more than 20 minutes to present. Conference papers will be published in the conference Proceedings.
Más información en el siguiente link.
Más info en el email surmoderno@gmail.com
Por complicaciones asociadas a la marcha estudiantil convocada para este jueves 28 a las 20:00 hrs, se ha decidido reprogramar la conferencia sobre Patrimonio Moderno. Se avisará oportunamente la fecha.
Rogamos disculpar cualquier inconveniente que este cambio pueda generar.
Docomomo Chile apoya la campaña de la comunidad para salvar de la inminente demolición la casa de Brown Norte 382, diseñada en 1937 por el destacado arquitecto Carlos Bresciani, Premio Nacional de Arquitectura 1970 y miembro de la oficina Bresciani, Valdés, Castillo, Huidobro, para la utilización del terreno como estacionamiento.
Puede ver la entrevista que sobre este caso ha hecho el equipo de Plataforma Urbana a nuestro presidente, Horacio Torrent, aquí.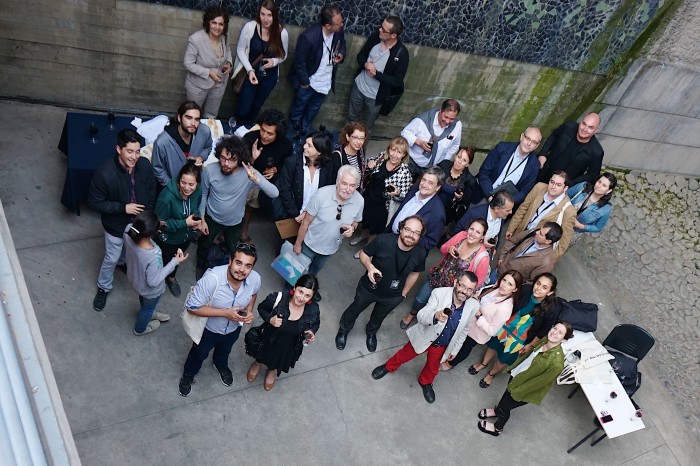 El viernes 28 de noviembre se clausuró el V° Seminario Nacional de Docomomo Chile, que se llevó a cabo en el auditorio de la Escuela de Arquitectura de la Pontificia Universidad de Chile.
El seminario contó con la participación de diversos invitados internacionales, entre ellos Ana Tostoes, presidenta de Docomomo International y Víctor Pérez Escolano, de Docomomo Ibérico.
Agradecemos a todos los ponentes, asistentes, estudiantes e invitados por haber colaborado en el éxito de este evento.
Invitamos a todos los miembros activos de nuestra Corporación a proponer sede para el próximo seminario.